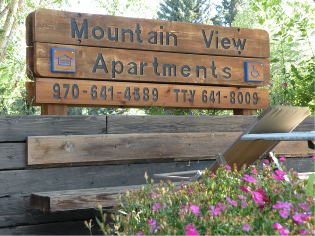 Mountain View Apartments are specifically for low-income seniors and persons with disabilities.
Mountain View Apartments are independent-living apartments for low and moderate income seniors and persons with disabilities. Rent is calculated based on income, assets, and medical expenses. Rent includes heat, water, sewer, and trash.
At 317 N. Spruce Street in Gunnison, Mountain View Apartments are conveniently located near downtown, grocery shopping, and the community library.
A criminal background check and credit history are conducted on all applicants prior to move-in. The Gunnison Valley Regional Housing Authority maintains an open waiting list for admission.
A copy of the application form is provided here for your convenience.
Community Features
The community room is available for movie nights, birthday parties, resident gatherings, and family functions. There's always a puzzle being worked in the community room. You can watch your favorite programs on the new big-screen TV or play a tune on the player piano! Other building features include on-site coin-operated laundry, free weekly Gunnison newspaper delivery, elevator, locked entrances, automatic doors, and resident-planted flowerbeds.
Here are additional resources for Assisted Living opportunities:
The Housing Authority shall not deny any family or individual the opportunity to apply for or receive assistance at Mountain View Apartments on account of race, color, sex, religion, creed, national or ethnic origin, age, family or marital status or disability.