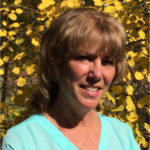 Jennifer Kermode, Executive Director 
Phone: 970-641-7901
Email: jkermode@gvrha.org
Jennifer Kermode moved to the Gunnison Valley in May 2017 to begin her position as the Executive Director of the Gunnison Valley Regional Housing Authority.  Prior to this post, she served as the Executive Director of the Summit Combined Housing Authority from 2007 to 2016, and created innovative programs to address their unique housing challenges.  Her passion for tackling affordable workforce housing matters in rural and resort communities grew out of a 27-year career in residential mortgage lending, where Jennifer realized the magnitude of positive outcomes people experience when they have good homes to live in.  She's had ownership interest in three start-up companies that grew into successful mortgage brokerage firms.
Jennifer is currently the President of the Colorado Mountain Housing Coalition and a member of the Rotary Club of Gunnison County.  She enjoys all the beautiful scenery, the variety of outdoor activities and the friendly people in her new home in Gunnison County.